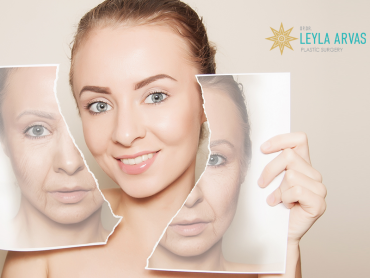 Laser Skin Rejuvenation procedures are effective and successful in achieving high-quality skin using advanced laser technology. The use of lasers in the aesthetic and healthcare industries is increasing day by day. With the development of new methods and devices, laser treatments offer advantages such as non-surgical procedures, easy application, and fast results. That's why Laser Skin Rejuvenation treatments are frequently chosen. Laser procedures are safe, low-risk, and comfortable treatments that can be applied to all skin types.
Why is Laser Skin Rejuvenation performed?
Factors such as aging, pregnancy, hereditary traits, and weight fluctuations can lead to skin wrinkles, sagging, and stretch marks. Various skin deformations can occur both congenitally and later in life, including residual surgical scars, acne scars, sunspots, freckles, unwanted tattoos, and uneven skin tone. All of these skin deformities can greatly bother an individual, restrict their social life, make them look older, reduce self-confidence, and even pose risks to their professional life. Laser Skin Rejuvenation allows the skin to become smooth, tight, and youthful. It restores a radiant, glowing, and hydrated complexion. Laser-based skin rejuvenation treatments not only help individuals achieve a healthy and high-quality appearance but also contribute to their happiness and self-assurance.
Laser Skin Rejuvenation Methods

Laser skin rejuvenation procedures are constantly evolving and advancing with the development of laser technology. There are various anti-aging laser treatments available, and the selection of the appropriate treatment is determined by the individual's skin type, specific deformations, and the desired benefits, as determined by a doctor.
Fotona 4D Laser: This treatment addresses wrinkles and sagging effects on the skin using a 4-mode application (smooth, frac3, piano, supErficial) and different wavelength options. It is commonly used on the face and is a painless, risk-free, and easily applicable procedure. It can be completed in a single session or multiple sessions, depending on individual needs.
Fractional Laser: This treatment can be applied to all parts of the body and is highly effective in treating issues such as pigmentation, scarring, wrinkles, and sagging. It uses wavelengths that target both the deeper layers and the superficial surface of the skin. Typically, 3-5 sessions are recommended.
Lumecca Laser: This laser treatment is used to address various skin deformations, including skin discoloration, vascular lesions, dilated blood vessels, unwanted freckles, uneven skin tone, and wrinkles. It is often performed on the face, neck, décolletage, and hands. Successful results can usually be achieved in a single session.
Baby Face Laser: This treatment promotes skin rejuvenation and renewal. It involves creating microchannels in the skin using laser beams, through which various vitamins (A, C), stem cell-supported ampoules, and anti-aging cosmetics are delivered to the deeper layers of the skin. The skin is rejuvenated, giving it a baby-like appearance. Typically, 3-4 sessions are recommended for facial treatments.
IPL (Intense Pulsed Light) Laser: This method involves the use of intense pulsed light energy. It is effective in treating pigmentation and scarring. While it is commonly performed on the face and hands, it can be applied to the entire body. Typically, 1-5 sessions are recommended to achieve a spotless, radiant, and bright complexion.
Q Switch Nd:YAG Laser: This treatment is effective in addressing skin issues such as pigmentation, tattoo removal, and surgical scars. It is a long-lasting procedure that typically requires 4-5 sessions, resulting in smooth, radiant, and healthy-looking skin.
Changes Achieved by Laser Skin Rejuvenation Methods:
Laser skin rejuvenation procedures bring about the following changes in the skin and overall well-being of an individual:
Elimination of skin deformations, resulting in smooth and radiant skin.
Improvement in skin tone and overall skin quality.
Achievement of a youthful and healthy appearance.
Enhanced confidence and comfort in social interactions, without the need for accessories or heavy cosmetics to conceal skin flaws.
Improved personal relationships.
Advantages in visually-focused professional fields.
Increased self-confidence and overall happiness.
Who Should Not Undergo Laser Skin Rejuvenation?
There are certain individuals and conditions for whom laser skin rejuvenation procedures are not recommended:
It can be performed on individuals who have reached the age of 18. For individuals under 18, the procedure can be performed with parental consent and the approval of a doctor.
Pregnant or breastfeeding individuals should not undergo the procedure.
It is not suitable for individuals with a risk of allergic reactions.
It is not recommended for individuals suspected of having or undergoing cancer treatment. It can be performed one year after completion of cancer treatment.
Individuals with a pacemaker should not undergo the procedure.
It is not suitable for individuals with skin infections (such as cold sores) or conditions such as psoriasis or vitiligo.
Laser skin rejuvenation procedures can be performed on women, men, individuals with any skin type, and those who prefer non-surgical treatments.
Is Laser Skin Rejuvenation Permanent?
The permanence of laser skin treatments varies from person to person. Factors such as the severity and duration of the skin deformity, post-treatment care, and sun protection can affect the longevity of the results. While some skin deformities may yield permanent results, others may require periodic treatments to maintain the effects. Therefore, it is important to consult with a doctor for detailed information before undergoing the procedure and adhere to the post-treatment guidelines diligently.
Is Laser Skin Rejuvenation Painful?
Laser skin rejuvenation procedures can be performed with local anesthesia or without anesthesia. During the procedure, the individual does not experience pain or discomfort. However, after certain treatments, there may be sensations of warmth, burning, or itching due to the effect of high heat. There is generally no need for pain medication, but applying a cold compress can help alleviate any discomfort.
When Will the Effects of Laser Skin Rejuvenation Be Visible?
The timing of the effects of laser skin rejuvenation treatments varies depending on the specific laser method used, the severity of the deformity, and individual skin characteristics. Typically, the healing process is completed within 7-10 days. Individuals usually start noticing the effects of the laser treatment on their skin within 3-6 months. In multiple-session treatments, the improvement becomes more noticeable after each session.
Is Laser Skin Rejuvenation Safe?
All laser skin rejuvenation procedures are performed using FDA-approved devices. Each method has its specific device. The treatment does not lead to cancer formation or skin damage. It is a safe procedure. The use of personalized protective eyewear is provided during the treatment. To ensure the safety of the procedure, it should always be performed by experienced dermatologists or plastic surgeons. Laser treatments performed by non-medical personnel in non-approved facilities pose health and aesthetic risks.
What Are the Advantages of Laser Skin Rejuvenation Methods?
The advantages of laser skin rejuvenation methods are as follows:
Treatment is performed without surgery or general anesthesia.
The procedures are quick and easy.
There is no pain or discomfort during or after the treatment.
They are safe and risk-free procedures.
The desired effects on the skin are achieved rapidly.
They are more cost-effective compared to surgical procedures.
They can be combined with various surgical and non-surgical treatments.
They can be applied to all skin types, age groups, and seasons.
When Should Laser Skin Rejuvenation Be Done?
Laser skin rejuvenation should be performed as soon as possible before the deformities progress to achieve faster results. The longer the delay, the more challenging it becomes to address the deformities.
Laser treatments can be performed in any season. To achieve effective results after the treatment, it is important for individuals to protect themselves from the sun. Therefore, extra protection is necessary for laser treatments performed during the summer months. Individuals who do not want to encounter this issue may prefer to undergo laser skin rejuvenation during the winter months.
What Are the Prices of Laser Skin Rejuvenation?
The prices of laser skin rejuvenation vary greatly. The price depends on factors such as the specific method used, the severity of the deformities, the number of sessions, the materials used, and whether the treatment is combined with other procedures. Considering the improved skin health and increased morale achieved after laser skin rejuvenation, the prices are quite reasonable.