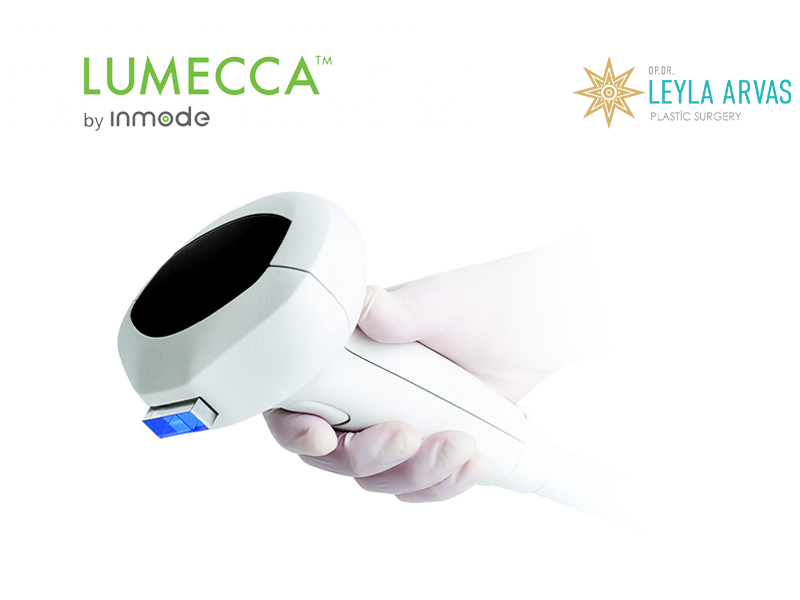 Lumecca IPL Laser is an application that uses the most advanced laser technology to eliminate deep skin blemishes. The visible discolorations and scar appearances on areas such as the face, hands, and neck can have a negative impact on a person's daily life. Various skin deformations such as acne scars, surgical scars, wrinkles, sunspots, age spots, and marks from injuries cannot be treated effectively with home remedies or topical creams. A specific treatment plan should be developed to address these blemishes. Lumecca IPL Laser is one of the non-surgical methods used for targeted skin treatment.
What Sets Lumecca IPL Laser Apart from Other Non-Surgical Methods?
Lumecca IPL Laser is specifically designed to eliminate redness, pinkness, discoloration, scars, visible blood vessels, and other skin imperfections caused by factors such as aging, pregnancy, sun exposure, acne formation, improper hair removal practices, illness, or genetics. The key difference of Lumecca laser lies in its ability to deliver powerful and intense light energy to the skin. The strong pulses during the treatment allow for a more effective and efficient outcome in a shorter period. After Lumecca IPL Laser treatment, the skin appears smoother, brighter, and healthier. The laser's effect stimulates collagen production, resulting in a tighter and more firm skin structure.

How is the Decision Made for Lumecca IPL Laser?
An individual should consult with a dermatologist or plastic surgeon regarding their specific skin deformity concerns. During the consultation, the skin condition and type will be examined. The medical history, including any previous skin issues, will be assessed, and various hormone and blood tests may be conducted. Based on the evaluation, if Lumecca laser is determined to be the most suitable treatment method for the skin deformity, the treatment process will be planned accordingly.
How is Lumecca IPL Laser Applied?
Lumecca IPL Laser is applied under local anesthesia. After cleansing the treatment area, a numbing cream is applied to ensure comfort. The laser light beams are then directed onto the treatment area. The duration of the procedure depends on the size of the treatment area and typically lasts around 20-30 minutes. The process is painless, comfortable, and does not cause any discomfort.
How Many Sessions of Lumecca Laser are Required?
The number of Lumecca laser sessions is determined based on the individual's skin deformity and skin type. While some individuals may require only a single session to address their skin concern, others may need up to five sessions. There is usually a one-month interval between sessions. The individual's response to the treatment is evaluated after each session to determine whether the number of sessions should be extended or reduced.
Who is a Candidate for Lumecca IPL Laser?
To undergo Lumecca IPL Laser, the following conditions should be met:
Being at least 18 years old
Not being pregnant or breastfeeding
Having no risk of allergic reactions
Not having psoriasis or vitiligo
Having no current or recent history of cancer
Having no skin infections
As long as these conditions are met, Lumecca Laser treatment can be performed on both men and women who have complaints about skin blemishes, scars, or various lesions.
What are the Prices for Lumecca IPL Laser?
The prices for Lumecca IPL Laser treatment are determined based on factors such as the severity of the skin deformations, size of the treatment area, number of sessions, and the materials used. Laser treatments are generally more cost-effective compared to surgical procedures. The most accurate price information can be obtained after a consultation with a healthcare professional.
Where is Lumecca IPL Laser Applied?
Lumecca IPL Laser is typically applied to areas such as the face, neck, hands, legs, and arms. The Lumecca Laser device can be used on any part of the body if needed, thanks to its easy applicability.
Is Lumecca Laser Treatment Safe?
The safety of Lumecca treatment depends on the expertise and experience of the practitioner. Lumecca laser is a device that delivers powerful pulses of light, so it must be applied correctly in the appropriate mode. Procedures performed by doctors or experienced practitioners ensure the safety of the treatment. Lumecca laser treatment should always be conducted by a dermatologist in approved healthcare facilities. A skilled dermatologist will identify any risk factors before the procedure and take necessary precautions. Protective eyewear is used during the treatment to ensure the safety of the eyes. Additionally, the Lumecca laser device is FDA-approved, which further ensures the safety and reliability of the treatment.
Is Lumecca IPL Laser Permanent?
Lumecca IPL Laser is a long-lasting treatment if certain conditions are met. Laser treatment can effectively eliminate blemishes, scars, vascular lesions, and various skin deformations. However, to prevent the recurrence of these issues, it is important for individuals to protect their skin from the sun, maintain a healthy lifestyle, and avoid using low-quality skincare products. Keeping the skin well-moisturized and avoiding exposure to harsh environmental factors are also essential.
What is the Post-Treatment Process for Lumecca IPL Laser?
After Lumecca IPL Laser sessions, temporary effects such as redness, scabbing, and a warm sensation may occur. These effects typically subside within 24 hours. Within 7 days, as the skin undergoes renewal, the skin deformations are resolved, and a healthy skin appearance is observed. With multiple treatment sessions, noticeable improvements are observed after each session. Lumecca IPL Laser is a comfortable and convenient procedure with a smooth recovery process. It does not cause pain or discomfort, and there is no need for pain medication.
What Precautions Should Be Taken After Lumecca IPL Laser?
To ensure the effectiveness of Lumecca laser treatment, the following precautions should be taken:
– Avoid prolonged sun exposure and use sunscreen when outdoors.
– Avoid hot baths, steam rooms, and saunas.
– Avoid using cosmetics or chemical products on the treated area for the first 7 days, except for the creams recommended by the doctor.
– Do not pick at or remove any scabs that form on the skin; they should fall off naturally.
– Avoid scratching or applying pressure to the treated area.
How Does Lumecca Laser Affect Skin Blemishes?
Lumecca laser targets melanin and red blood cells in the skin. The strong light pulses have an effect on these cells and pigments. After Lumecca treatment, the blemishes initially darken and then gradually fade. Within a week, the upper layer of the skin peels off, revealing healthy, blemish-free skin.
When Will the Effects of Lumecca IPL Laser Be Seen?
The desired effects are typically seen within 1-2 weeks after the treatment. In cases of multiple sessions, noticeable improvements can be observed after each session. The skin will achieve the desired appearance once all the sessions are completed.
Does Lumecca IPL Laser Cause Pain?
Lumecca IPL Laser is applied under local anesthesia, so no pain is felt during the treatment. After the procedure, a temporary sensation of warmth or heat may be experienced as the anesthesia wears off. This sensation usually subsides within 24 hours, and there is no need for pain medication. Cold compresses can be applied for comfort.
In Which Season Can Lumecca IPL Laser be Applied?
Lumecca IPL Laser can be applied in any season. However, one of the key considerations after the treatment is protecting the skin from sunlight. For individuals who may have difficulty protecting their skin during the summer months, it is recommended to undergo the treatment in the spring or winter.