One of the most popular ways for treating skin wrinkles and lines is the injection of dermal fillers. Your face develops lines and wrinkles as you age, and when the skin starts to lose collagen, which is necessary to keep it healthy and youthful, wrinkles become more noticeable. Yet, removing these small wrinkles, depressions, and lines is not difficult.
Injectable dermal fillers sometimes referred to as dermal fillers, are now the most efficient way to treat all types of aging symptoms. They are particularly successful at eradicating facial creases and lines as well as restoring facial contours, giving the face a younger, more refreshed appearance. Men and women who wish to look more youthful and counteract the effects of aging are using fillers more frequently.
What Are Dermal Fillers?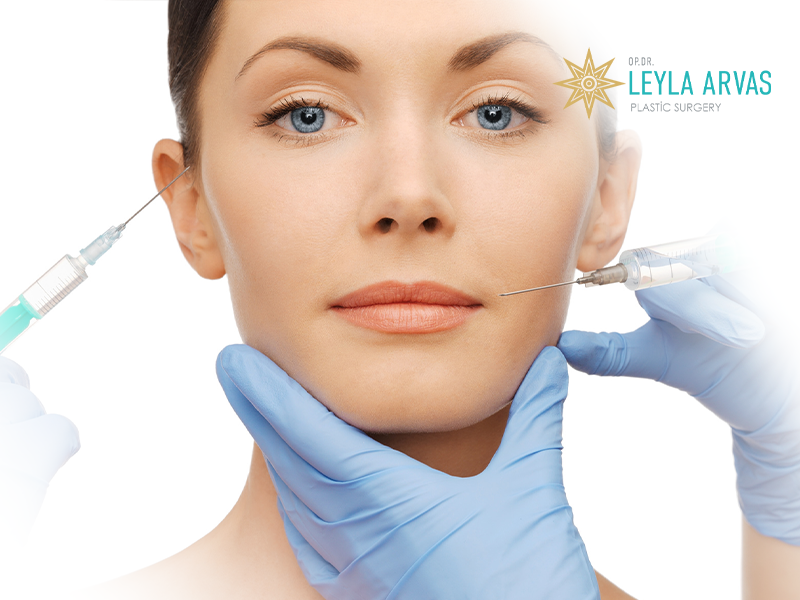 Dermal fillers are natural or artificial injectable substances that can be injected right into the skin to treat wrinkles and other aging symptoms. They are utilized to address the cheek structure, nasolabial folds, tear pits, jawline, and cigarette lines in addition to plumping the skin.
Injectable fillers plump up the lips and fill in the deep wrinkles and folds that develop in your skin with aging. Fillers that use hyaluronic acid as their main component has replaced those that previously employed collagen as their main component.
One of the most popular ways for treating skin lines and wrinkles is filler injection. As we age, the flexibility of our skin gradually declines, leading to wrinkles and sagging. Regenerative cosmetic procedures remove these aging symptoms, making us appear younger.
Often, the filler injection technique is used to smooth out wrinkles, improve the skin's shape, or enlarge the lips. Fillers can also be used to help you achieve a younger-looking face.
What's The Aim Of Dermal Fillers?
The use of filler is done to give the face a youthful appearance. This quick-acting medical cosmetic treatment helps the skin regain its suppleness, replenish the lost fat layer, and eliminate wrinkles brought on by a shortage of collagen.
The lower half of the face starts to droop downward, especially as we age. The result of this sagging is that people appear aging and pallid. Face fillings give the appearance of fuller skin and give the face a lifting effect. The skin can repair scars and acne scars by filling aesthetics.
Are You A Good Fit For Dermal Fillers?
Although the majority of people are suitable candidates for dermal fillers, the ideal candidate would require only minor permanent procedures, does not smoke, and is in generally good condition. Smokers experience slower healing times. This explains why dermal fillers have a better long-term success rate among non-smokers. Also, if you're thinking about getting dermal filler treatments, you should be prepared to accept the possibility that more than one procedure may be required to get the results you want.
Also, it's critical to remember that dermal fillers only serve to temporarily enhance your appearance. Yet, they are a great method to witness noticeable changes in your appearance without having to get any intrusive treatments or procedures done, and can last up to two years.
Dermal fillers are an excellent choice for both men and women. For people who want to merely treat one area of the face, fillers are also highly powerful.
Which Parts Of The Body Are Available For Dermal Fillers?
To give people's faces a younger and more vibrant appearance, lip, face, and under-eye fillers are chosen. The patient's cheekbones, forehead, tear trough, nose, chin, lower jawline, eyebrows, acne, and scars can all be treated with facial fillers.
Facial fillers rejuvenate the facial skin and reduce or erase wrinkles or fine lines on the face. Hyaluronic acid fillers that are administered intravenously to correct volume loss under the eyes last for 12 to 18 months.
Two popular cheek fillers can add volume to the area around your cheekbones and middle cheeks. Hyaluronic acid-based fillings known as nose fillers are injected into the nose to alter their form to suit the patient's demands. The nasal filling is a method that is also referred to as non-surgical rhinoplasty.
Jawline fillers help to contour and sculpt your neck while effectively defining the jawline. Selecting jawline fillers will help you get a thinner jawline. By selecting hand fillers, you can also renew the skin on your hands. It gets rid of sagging skin, adds back lost volume, and makes your hands look younger. The most popular option among hand fillers is dermal filler.
Lip filler is a non-surgical option for improving your lips. They enhance the structure and form of the lips in addition to restoring their volume.
Facial Dermal Fillers
The collapse of the skin is eliminated by filling the application on the face. Adipose tissue and collagen levels might drop, giving people's faces a crumpled and frail appearance. People appear older and unwell as a result of this. In approximately 20 to 30 minutes, this unflattering appearance can be eliminated by applying filler to the face. You can have face characteristics that are younger and fuller.
Face filling makes cheekbones visible, gets rid of forehead creases, and smoothes out lines around the mouth. In order to elevate the eyebrows, lift the nose, and emphasize the lip form, filling application to the face is also preferred.
Lip Fillers
Every woman desires to appear appealing. A desirable appearance requires lovely lips. Lip augmentation alone does not guarantee that you will have a lovely lip structure. Your lip shape and facial structure must be assessed prior to application.
Your face and lip structure are carefully inspected when you visit our doctor. We have received your requests. It is planned what kind of application will be submitted. A cannula or needle is used to apply lip filler. Prior to administration, topical anesthetic creams or local anesthetic may be used. By doing this, you may be confident that the application won't hurt.
Normal skin and subcutaneous tissue contain hyaluronic acid. So, it is feasible for the body to break down and eliminate it. The retention time varies depending on the type of filler used and how well the body can flush out hyaluronic acid. Before the operation, our doctor will go through this subject with you in great detail.
How Do Dermal Fillers Work?
The filling procedure is quite simple. Anesthesia is not necessary. After the treatment, which lasts about 30 minutes, you can resume your everyday activities and work. Before the filler injection, the treatment region is prepped. The filler is then injected into the areas that need to be filled.
Depending on the individual's needs, filling may occasionally take place at a single location or may require entry from multiple points. Following the treatment, bruising, and edema are possible side effects. But, all of these negative effects will disappear after a few days, leaving you with a rested and renewed appearance.
Do Dermal Fillers Hurt?
The procedure for filling is absolutely painless. Your skin is covered in local anesthetic lotion prior to the application to minimize pain. A fine-tipped needle is then used to inject the filler. After the filling is finished, a slight tingling in the application region is typical. In a few hours, this sensation will stop on its own.
Are Dermal Fillers Permanent?
Depending on the substance utilized, the filling application's durability varies. Natural-looking fillings often last for 16 to 18 months. We advise renewing your dental filling as it expires if you want it to appear more permanent. After 18 months, 60% of oil-based fillers dissolve. The downtime will be longer.
At this point, the adipose tissue in your body's permanent state becomes apparent. The fat tissues in your body will naturally dissolve as you lose weight. Typically, lip fillers last approximately 18 months. Your lip's filler will dissolve and revert to its original shape after 18 months.
Dermal Fillers Recovery Process
These procedures, which can be carried out with local anesthetic, typically last 30 to 40 minutes. All through one to two days, you can resume your regular schedule. A chin prosthesis can also be inserted if necessary. A small amount of facial edema or redness may be visible during facial filler. Your skin tone will revert to normal in a few hours. In a day or two, the facial edema will also go away.
When Will The Results Of Dermal Fillers Be Visible?
Our surgeon will discuss your skin troubles with you during the appointment, but they'll also watch how your face moves and what expressions you naturally make to determine which treatments are best for you.
She might apply a topical anesthetic (numbing cream) to the locations before the surgery to make them more comfortable. A local anesthetic may also be injected by some doctors. Discuss this option with your clinician during your consultation if you have any concerns about pain during the treatment. Depending on the location and the desired outcomes, they will then use a needle or a catheter to inject the filler beneath the skin. There is minimal downtime, and the treatment is fast. After the treatment, some patients may feel minor bruising or swelling, although this usually goes away within a few days.
Outcomes can sometimes be visible right away, but they are usually best observed a few days following the operation. The location of the injection, the filler used, the product used, and your individual metabolism all affect how long the benefits will last.
Possible Risks And Side Effects Of Getting Dermal Fillers
The two most frequent side effects of dermal filler injections are swelling and possible bruising, which can last up to a week to recover from. Dermal fillers are generally safe and effective, and your doctor will explain any potential adverse effects unique to the injection site. Allergic reactions and injection site infections are two more severe but uncommon adverse effects that should be taken into account. Fillers may also result in an asymmetrical appearance, but these risks are limited if they are administered by a skilled, plastic surgeon like Dr. Leyla Arvas, or a dermatologist. Overall, fillers are a well-liked and successful method of keeping a young appearance.
Dermal Fillers Prices In Turkey
The Ministry of Health cannot legally allow facilities to list prices on their websites. For this reason, you can contact our polyclinic at 0212 241 46 24 to learn more about the costs of dermal fillers.