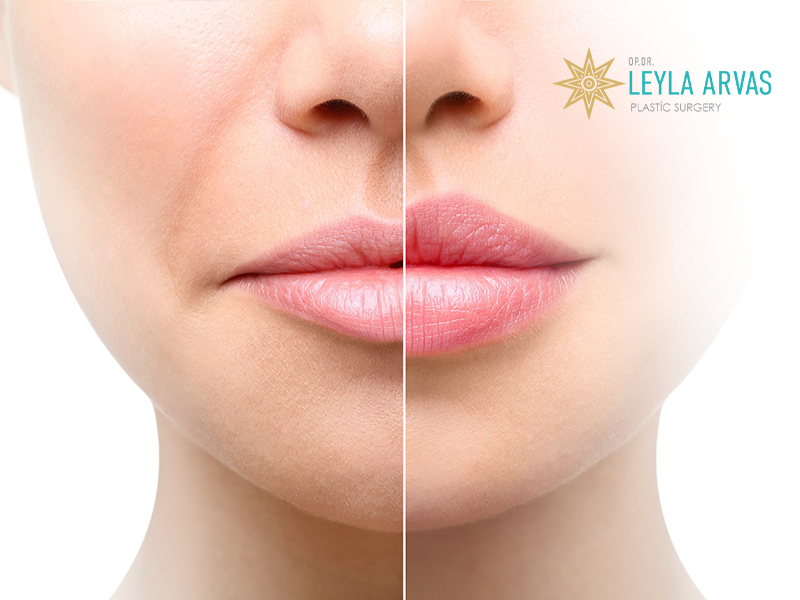 Lip fillers are one of the most essential cosmetic treatments for individuals who desire youthful and attractive facial features at any age. These fillers provide a way to enhance the appearance of the lips, making them fuller and more defined. A far more impressive and attractive posture is always displayed by lips that are full, and they also help the facial expression to appear younger. In addition to increasing the volume of the lips, lip augmentation is frequently chosen as a treatment to avoid fine wrinkles that form with aging and sagging up to the nasolabial region.
Lip augmentation is an injection treatment that uses a high concentration of hyaluronic acid and has a structure that can readily adapt to the acid that is naturally found in our bodies. This procedure makes you feel extremely moisturized and impresses you with its natural-looking results. It not only dazzles with the appearance it offers, but it also gives your thin lips natural volume in a way that makes them feel like your own thanks to its delicate structure. However, it is feasible to address lip lines and other symptoms of aging while also removing your lines and having youthful-looking lips by applying moisture filler to your lips.
What Are Lip Fillers?
A non-surgical method to increase the fullness of the lips is lip filling. Lip enhancement gives thin, undetectable lips a fuller, more aesthetically pleasing appearance. It is a method that is frequently chosen since it is simple to use, useful, risk-free, and yields satisfactory results. Lip filling is crafted to complement the face and be in proportion to the person's other organs and facial features.
Lip augmentation is a technique created for persons whose lips are anatomically distorted and thinner than they should be owing to congenital genetics or aging. Lips that are too thin or nonexistent make the face appear disproportionate and expressionless. In addition to making a person look thin, conditions like wrinkles, dryness, line formation, and lip discoloration age and exhaust a person. Lip filling gets rid of all these drawbacks and gives the person a more flattering lip appearance.
What Does An Ideal Lip Shape Look Like?
The perfect lip shape depends on a person's facial features and lip structure. Yet the average-determined ideal lip must adhere to the following requirements:
At least half of the lower lip's size should be on the upper lip.
The upper lip should be 2mm ahead of the lower lip when viewed from the side.
The gap between the lip and the nose should be in balance and proportion.
Lips should be balanced and in proportion to the rest of the face.
Lips ought to be glossy, moist, and smooth.
Also, lips should have a bright, light red color.
Why Should You Get Lip Fillers?
We are aware that keeping our skin dry makes it much more susceptible to early aging symptoms since it is the first barrier of our body to come into contact with outside elements in our daily lives. Our lips are the most significant component of the aesthetics of our face, but they also have the most delicate skin, which serves as the initial defense against numerous outside influences. We can very easily cause this sensitive skin, which is sometimes exposed to cigarettes and experiences hot and cold sensitivity with meals, to lose moisture.
Everyone now understands the need of paying more attention to their physical appearance thanks to the quick entrance of social media into our life. Everyone who feels that they have thin, voluminous, and uncontoured lips can select lip augmentation when you look at the photographs more closely. One particularly unfavorable consequence of aging is that the lips give in to gravity and get a deflated appearance as hyaluronic acid levels to decrease. In light of all these factors, lip augmentation is the most spectacular and quick-acting aesthetic application that can help anyone, regardless of gender, age, or physical condition.
Benefits Of Getting Lip Fillers
Lip filling creates a full, moist, contoured, and radiant lip structure by removing thin, voluminous, dull, wrinkled, and dry lip structures. It's simple and practical to use lip enhancement. Results and recovery are attained quickly.
The incision is not opened, and no general anesthetic is used because it is a non-surgical application. It has no adverse effects and carries no danger. It is painless to get your lips augmented. There is no lip scar left over from the lip augmentation treatment. When compared to surgical procedures, lip augmentation is fairly inexpensive.
Who Can Get Lip Fillers?
For lip augmentation, the enumerated prerequisites must be satisfied:
Both men and women over the age of 18 are eligible to use it.
It is used on persons whose lip structures lack volume, are thin, unevenly spaced between the upper and lower lips, malformed, and have creases, collapses, and lines.
Those who are breastfeeding and not pregnant can use it.
It can be used by people without allergies or chronic illnesses.
It is used on those who do not suffer from an infectious disease like herpes.
Can Men Get Lip Fillers?
Although most often chosen by women, lip augmentation is a treatment done on men as well. Lips can be thinner than they should be owing to genetics, accidents, diseases, etc. later in life. By giving men's lips a more masculine lip structure, it is feasible to balance the lip's appearance with their facial features.
How To Get Lip Fillers?
Dermal Filler, which contains hyaluronic acid, is the first option. Dermal fillers are fillers with the active component hyaluronic acid. In the human body, hyaluronic acid is a water-based material that is depleted over time. Hyaluronic Acid's ability to regenerate allows lips to get the required fullness, vibrancy, and energy.
Injection of fat is a different kind of filler. The liposuction technique involves the removal of extra fat from the body and the subsequent processing of that fat. You can inject oil into the lip area using ready-to-fill fats. This technique uses the individual's own oil, making it natural and risk-free.
Dermal and oil fillers are applied in the same way. With the use of an injector, the type of filling is applied to the required spots after the lip area has been numbed with an anesthetic cream. The spread of the filling and lip formation is guaranteed by hand shaping. This painless and straightforward procedure lasts for about 10-15 minutes.
How Much Filler Is Enough To Get Lip Fillers?
The quantity of filler to be utilized in lip filler is chosen based on the patient's requirements and preferences. Since the lip area is so small, typically between 0.5 and 2 cc of filler is employed. More cushioning may be employed in rare circumstances. Before lip augmentation is performed, specific instructions are given regarding the dosage to use and the final appearance.
When Will You Go Back To Your Daily Routine After Getting Lip Fillers?
After getting lip fillers, the patient can resume his normal activities right away. Swelling and redness around the lips are common. During one to two days, these effects go away. Ice compresses applied here can offer relief. No discomfort is felt following lip augmentation.
It's important to protect the lips from trauma, avoid taking very hot baths and avoid consuming hot drinks and solid foods while they're mending. It's also crucial to avoid smoking or wearing lipstick right away after application. Although the lips instantly begin to fill out, it takes 3–4 days for the swelling to subside and the desired result to take hold.
Are Lip Fillers Permanent?
Lip filler is a temporary procedure. The body absorbs the lip filler over a period of time that varies from person to person before excreting it. In our clinic, we never employ filler materials that do not melt and are not absorbed by the body. Persistent fillings harm the body and eventually cause tissue damage. Because of this, we solely employ dermal or fat filling at our clinic. The permanency of the dermal filler injected into the lips lasts for an average of 6-12 months, while the oil filling takes up to 18-24 months. The person can get it done again to increase the permanency period after the filling effect wears off.
Is Having Lip Fillers Risky?
For those who don't mind having it done, lip augmentation poses no risks. Only dermatologists and plastic surgeons should use lip fillers. To avoid hazards, undesirable aesthetic effects, and health issues, lip augmentation must be performed by a qualified and experienced medical professional.
Can Lip Fillers Be Removed?
By using the melting process, unfavorable lip augmentation outcomes can be reversed. Hyaluronidase injections make it easy to remove the dermal filler. Under the same circumstances as in the filling application, hyaluronidase is injected into the application region. In this manner, hyaluronic acid dissolves quickly and is quickly eliminated from the body. In order to prevent the application area from deforming, it is crucial that the applied filler be removed by qualified and experienced medical professionals. The dermal or fat filling can be carried out if preferred after the filler is withdrawn.
Do Lip Fillers Leave Scars?
There is no scar after lip augmentation because the incision is not opened and the treatment is done with the aid of an injector. After lip augmentation, the lips are completely unmarked by the treatment. The technique gives the lips a natural-looking appearance.
Are Lip Fillers Affordable?
The type of filler, the amount utilized, the deformity of the lip, the applying doctor's experience, the brand and quality of the substance used, and others all affect how much a lip filler costs. Prices for lip augmentation are therefore not set. By looking at the individual and deciding what kind of filling will be used, the price can be created. Prices for dermal and fat filling are quite affordable when compared to surgical implant techniques.
Lip Fillers Prices In Turkey
The quantity of filler used determines the price of lip fillers. The Ministry of Health cannot legally allow facilities to list prices on their websites. For this reason, you can contact our polyclinic at 02122414624 to learn more about lip filler prices.