Fractional Laser is the most advanced laser technology with skin-rejuvenating effects. This technology is used to treat various skin deformations such as scar marks, acne scars, wrinkles, sagging, and uneven skin tone. The effect of Fractional Laser results in improvement, rejuvenation, and smoothness for all skin types, including young and old individuals, both male and female. Fractional Laser is a non-surgical method that delivers highly successful results due to its ease of application and fast-acting effects.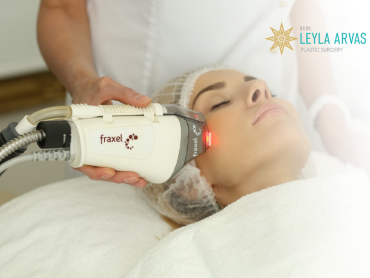 What is Fractional Laser?
Fractional Laser (Fraxel Laser) is a laser procedure performed to rejuvenate/repair the skin using fractional wavelengths. Two different wavelengths are utilized in Fractional Laser. The first is a laser that performs skin resurfacing: This procedure utilizes a 10600 nm CO2 or a 2940 nm erbium laser to remove the top layer of the skin and promote regeneration in the underlying layers. The other lasers that work without removing the skin are operated at wavelengths of 1550 nm, 1440 nm, and 1540 nm. This treatment, known as Thulium laser, effectively addresses the deformations in the upper layer of the skin. In some cases, both wavelengths can be used together with the same applicator to treat certain skin deformations. This dual approach allows for improvement in both superficial and deep deformations.
Who Can Undergo Fractional Laser?
The decision to perform Fractional Laser is made following a doctor's examination.

In addition to the need for addressing skin deformations, the following conditions are also considered for Fractional Laser:
Not being pregnant or in the breastfeeding period
Not being a cancer patient, or if so, having completed cancer treatment at least one year ago
No presence of skin infections
No risk of allergic reactions
No skin diseases such as psoriasis or vitiligo
Fractional Laser can be applied to individuals of all age groups if deemed appropriate by the doctor.
Where Can Fractional Laser Be Applied?
Fractional Laser can be applied to all parts of the body. The commonly treated areas include:
Face
Neck
Abdomen
Arms
Legs
Chest
Hands
The applied areas show a brightening and smoothing effect on the skin. Blemishes and scars are eliminated, and the signs of aging diminish. In cases of necessity, Fraxel Laser can be applied to multiple areas in the same session.
How is Fractional Laser Applied?
After the application area is cleaned, it is numbed with an anesthetic cream. The wavelength and device mode are selected based on the skin's deformation.
Depending on the chosen wavelength, the laser beams can damage various tissues such as collagen and blood vessels in the deeper layers of the skin or only perform tissue renewal on the surface deformations. It is also possible to work with two wavelengths simultaneously.
This helps eliminate surface blemishes and scars while activating collagen production, reducing wrinkles, sagging, and skin laxity. The duration of Fractional Laser treatment varies between 20 minutes to 1 hour, depending on the treated area.
What are the Purposes of Fractional Laser?
Fractional Laser provides various repairs and improvements to the skin. The primary functions of Fraxel Laser include:
Acne and acne scar treatment
Scar treatment (including scars from cuts, sharp objects, and burns)
Wrinkle reduction
Treatment of sagging skin and stretch marks
Correction of skin tone differences
Minimization of enlarged pores
Underarm lightening
How Many Sessions of Fractional Laser are Required?
The number of sessions for Fractional Laser varies depending on factors such as the severity of the deformation, the skin's response to treatment, age, and the duration of scar formation. The response time to treatment differs between facial and body deformations. Generally, 3-5 sessions are sufficient to achieve the desired effect on the skin. There should be a minimum of 1 month between each session. In some cases, a single session can provide the necessary treatment for superficial skin issues.
What is the Recovery Process after Fractional Laser?
After Fractional Laser treatment, the skin may experience burning, redness, and swelling. These effects typically disappear within 2-3 days. If scabs form on the skin, they will naturally fall off within 3-4 days. During this process, the following precautions should be taken:
Avoid prolonged sun exposure and use sunscreen when outdoors.
Avoid tanning beds and consult with a doctor before using cosmetics.
Avoid water contact for 24 hours and avoid taking hot baths for the following week.
Protect the treated area from impacts, scratching, and do not pick at scabs.
Fractional Laser achieves recovery within 1 week, while its effects become visible within 3 months.

Is Fractional Laser Permanent?
Fractional Laser provides permanent results for surface treatments such as scar removal, acne treatment, and spot treatment. For treatments that target the deeper layers of the skin and aim to activate collagen, such as wrinkle reduction, skin tightening, balancing skin tone, and treating stretch marks, the results typically last 3-5 years. Among non-surgical procedures, Fractional Laser is one of the treatments with longer-lasting effects.
Does Fractional Laser Leave Scars?
Fractional Laser does not leave scars on the skin. Since it is a scar removal procedure, there are no permanent scars formed, except for temporary redness that may occur in the first few days.
Is Fractional Laser Safe?
Fractional Laser is an FDA-approved device. It does not cause unwanted damage to the skin or lead to cancer. However, it is important to choose the appropriate wavelength and consider the individual's skin characteristics during the treatment. Therefore, Fractional Laser should only be performed under the supervision of a specialized doctor.
Does Fractional Laser Cause Pain?
After Fractional Laser treatment, individuals with sensitive skin may experience some discomfort once the numbing effect wears off. This discomfort is typically in the form of a burning sensation. Pain relievers can be used with the advice of a doctor. Applying cold compresses to the treated area can also provide relief.
What is the Effect of Fractional Laser on Skin Blemishes?
Fractional Laser is a highly successful treatment for acne scars, surgical scars, and skin blemishes. Since scars are on the surface of the skin, the 1550 nm wavelength is typically sufficient for effective treatment. The practical and fast application of Fraxel Laser results in short session durations. Depending on the condition of the scars, a single session or multiple sessions of Fraxel Laser can be applied.
How Does Fractional Laser Affect Sagging?
If sagging, loose skin, or stretch marks are in the early stages, positive results can be achieved with Fractional Laser. It can promote the elimination of sagging and result in smooth, firm, and well-shaped skin, particularly in areas such as the abdomen, chest, arms, and legs.
Is Fractional Laser Combined with Other Treatments?
Fractional Laser can be combined with other treatments, such as Gold Needle or Radiofrequency therapy, depending on the skin's specific needs, especially for the treatment of deep acne scars. Combined procedures can shorten the treatment process and promote rapid healing.
Where is Fractional Laser Performed?
Fractional Laser should be performed by a Dermatologist or Plastic Surgeon. It is crucial to identify and prevent potential risks, establish an accurate diagnosis, and determine the appropriate treatment method. To avoid health risks and ensure optimal aesthetic outcomes, Fractional Laser should be performed by expert doctors in approved healthcare institutions.
What are the Prices of Fractional Laser?
Fractional Laser is a non-surgical procedure. The cost of Fraxel Laser treatment depends on factors such as the size of the treated area, the chosen wavelength, the number of sessions, the materials used, and whether it is combined with other procedures. The prices for Fractional Laser can be obtained after a consultation with a healthcare professional to assess your specific needs.