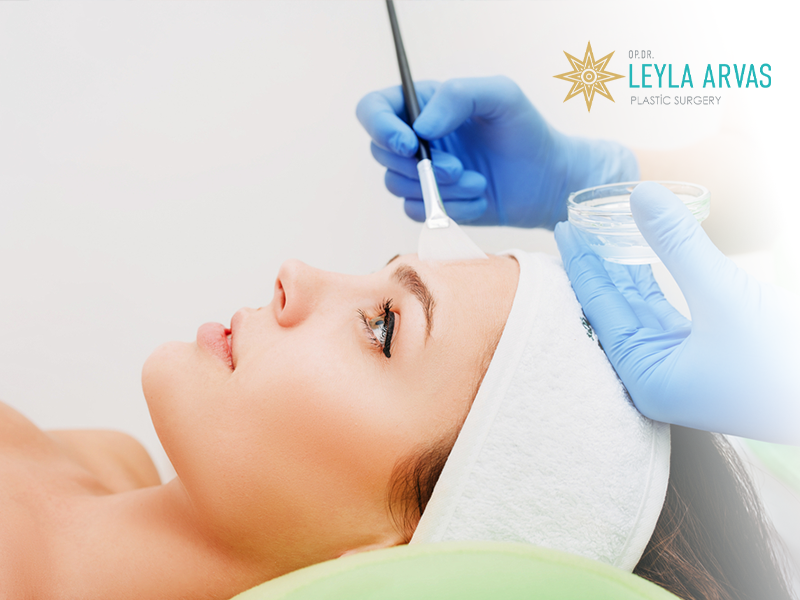 Chemical Skin Peels is one method for removing dead skin cells and giving the skin a more youthful and radiant appearance. The skin regeneration process is started by applying chemical substances with a specific acidic composition in the Chemical Skin Peels application, which, when carried out by specialists in the area, yields highly good results.
It revitalizes the skin by clearing it of dead cells. The skin seems more vibrant, clear, and healthy and loses its lifeless, stained, and dreary appearance. A controlled amount of skin damage is produced as a result of the chemical agents administered to the skin throughout the operation. Then, with the skin's surface peeling, the accumulated dead skin is removed from the skin, whose rate of self-renewal declines with age. Hence, Chemical Skin Peels result in the appearance of regenerated skin.
What's The Aim Of Chemical Skin Peels?
Chemical Skin Peels commonly referred to as skin peeling, is a method of skin rejuvenation that rids the skin of dead skin cells. It is a widely used and frequently preferred application because it involves no surgery. This method involves applying chemical substances to the skin. These chemicals are meant to harm the skin in a controlled way. As a result of the damage, the skin is cleared of dead cells, revealing a skin that is more vibrant, fresh, clean, and healthy.
The skin renews itself more slowly as we become older. The surface of the skin becomes more matte as a result of this circumstance. The flexibility of aged skin and its resistance to outside influences gradually decline with age. People get dissatisfied as a result. These issues can be corrected with aesthetic procedures like Chemical Skin Peels that remove dead skin cells from the skin.
Using this technique, the neck, face, or hand area is treated with a chemical solution that has an acidic composition. The skin surface is pulled off and the chemical is designed to harm the skin in a regulated manner. Instead of peeling skin, a newer, smoother skin layer appears as a result. You can get your skin back to how it was before—vibrant and healthy.
In comparison to old skin, there is a significant reduction or disappearance of wrinkles and skin spots after the Chemical Skin Peels procedure. Skin looks tighter and healthier. It aims to minimize pores, maintain youthful vitality, and produce softer, more delicate skin.
Are You A Good Fit For Chemical Skin Peels?
Having age, pregnancy, UV, or acne scars on the skin's surface
Experiencing issues with melasma and pigmentation,
Experiencing skin issues related to acne,
Those who want to reduce the appearance of fine wrinkles and lines, those who have a rough and large pore skin surface, and those who want to have healthier, brighter, and more youthful-looking skin can all benefit from Chemical Skin Peels.
After these procedures are finished, it is advised that women who are pregnant or nursing avoid Chemical Skin Peels. Chemical peeling cannot be used until an open wound or infection on the skin's surface has healed. One of the components of the chemical solution used during the process should not be applied to anyone who is allergic to it. If the skin has recently undergone a laser treatment or another peeling procedure, chemical skin peels should be avoided until the skin has fully recovered.
How Does Chemical Skin Peels Work?
The primary goal of chemical skin peels is to peel the skin in order to achieve a brighter and more youthful appearance;
The skin is first completely washed with particular solutions, and all oil and debris deposited on the skin surface are cleaned and properly dried after a thorough evaluation of the area where the application will be applied.
Vaseline is used prior to protecting the sensitive areas to stop them from peeling and becoming itchy.
After shielding the eyes and ears, the entire skin surface is covered with a particular chemical solution, which was produced based on the individual's anatomy and the present state of their skin.
Chemical agents that are left on the skin surface for an average of 5 to 15 minutes are neutralized and removed from the skin surface, however, this varies from person to person.
After a given amount of time, the skin starts to peel, clearing out blemishes, color differences, acne, and pimples from the skin's surface.
When Is Chemical Skin Peels Effective?
With chemical skin peels, dead skin cells are removed, leaving the skin smoother and more vibrant-looking. There are numerous areas of applicability. It is employed to cure blemishes.
To remove or lighten fine and medium-depth wrinkles, it is applied. Acne and pimples can be treated with it.
Using it helps to fade acne and acne-related spots. Using it helps to smooth down the skin's rough look. It is used to make a porous skin structure look more attractive. It's also applied to make the skin more vibrant and to increase the brightness and smoothness of the skin.
Also, it is used to treat skin conditions like postlesional hyperpigmentation, periorbital hyperpigmentation, melasma, photoaging, acne scars, acne vulgaris, seborrheic keratosis, and senile lentigo. It can be used either alone or in conjunction with other treatments for certain skin issues.
What Does Chemical Skin Peels Contain?
The person's skin type and condition will fully influence how long the chemical skin peels solution is left on the skin. It takes, on average, 5 to 10 minutes, to give a general time estimate.
Chemical peeling involves applying a special solution to the skin that contains ingredients including glycolic acid, salicylic acid, Jessner solution, and trichloroacetic acid, which are specifically needed for the skin. The ratios of these active substances also change depending on a person's age, skin condition at the time, and demands.
Types Of Chemical Skin Peels
The patient's age, skin structure, and pre-existing skin issues decide the level of peeling to be employed in Chemical Skin Peels, much like in all other medical and aesthetic applications. There are three main forms of Chemical Skin Peels depending on how much peeling is desired. Chemical peeling is used to rejuvenate skin through peeling.
The first of these is the application of superficial peeling. By solely affecting the top layer of skin, it seeks to peel this area. The second involves applying a somewhat deep peeling agent. For the treatment of these issues in skins with papules and reticles, it is mostly chosen.
The thorough peeling application comes in third. Peeling is caused by the chemical solution that is given to the skin's surface during the operation; it acts up to the dermis. In this method, the epidermis is quickly replaced and peeled off, revealing new skin.
Chemical Skin Peels Recovery Timeline
Depending on how much chemical skin peels were applied, different recovery processes apply. Even though the third level of chemical peels impacts the epidermis, the healing process following the application of the first level of chemical peels, which is administered superficially, is a little more challenging. The healing process is impacted when the chemical density rises. In addition to these, the process following chemical peels is influenced by the individual's skin structure, reactivity, and rate of skin healing.
To give an idea of the general recovery time, superficial chemical skin peels applications result in light peeling within 1–5 days, at which point the healing process is complete. In contrast, more advanced chemical peels applications cause the skin to become tense and edematous, and a brown appearance may develop on the skin's surface. These disorders do, however, also get better on their own after about a week on average of the skin's surface peeling.
Possible Risks And Side Effects Of Chemical Skin Peels
If performed by knowledgeable dermatologists, chemical skin peels are a highly safe application. On the other hand, it might result in skin damage that is permanent, such as burns and stains. Regarding the dependability of the operation's results, it is also crucial for the client to protect their skin extremely properly after the procedure. Even at home, one should not venture outside without sunscreen to avoid direct sun exposure. Other than these, minor adverse effects from applying chemical peels;
Skin peeling, dryness, and redness are possible side effects.
After the operation, skin that produces a lot of melanin may become darker. The skin should be shielded from sunlight and covered with high-factor sunscreen products, especially in the first few weeks, to prevent this condition.
Is Chemical Skin Peels Painful?
Depending on the person's pain threshold and the extent of the chemical skin peels process, different levels of discomfort can be experienced. Creams with local anesthetics lessen pain perception and discomfort. While people often experience a mild burning sensation during superficial and moderate chemical peels procedures, deep peeling procedures produce slightly more discomfort because the chemical solution operates up to the dermis layer.
Do Chemical Skin Peels Reduce Skin Spots?
In order to avoid resulting in permanent burns and stains, chemical skin peels should only be applied by dermatologists who are knowledgeable in their professions and skilled in hygienic practices. It is never advised to use it on oneself at home because of this.
The degree of peeling and skin regeneration following the process is also great, in part because the chemical solution prepared in third-degree chemical skin peels procedures impacts the deepest layers of the skin. Acne, acne, aging, UV damage, and scars can all be improved with this peeling procedure.
Are Chemical Skin Peels Harmful To Your Skin?
Depending on how intensely the chemical skin peels technique is used, different levels of skin damage might result. Deeper peeling applications may cause brief tension and edema in the skin in addition to moderate redness and peeling that lasts just 1 to 5 days.
When Can You Go Back To Your Daily Routine After Chemical Skin Peels?
The length of time needed to recover after chemical skin peels varies depending on how much peeling is applied. First-degree superficial peeling applications heal in 4-6 days, second-degree moderate peeling applications in 7-8 days, and third-level deep peeling applications in 10-14 days.
Which Season Is The Best For Chemical Skin Peels?
The skin becomes more exposed to the damaging and discoloring effects of the sun's rays than ever before because the chemical skin peels treatment induces peeling on the skin's surface. To ensure that the application's effects are satisfactory and to reduce the chance of staining, it is advised to carry out the procedure in the autumn and winter.
Will Acne Come Out After Chemical Skin Peels?
The skin can be deeply peeled and rejuvenated during chemical skin peels if a chemical solution is applied specifically to the point where it will influence the dermis, and acne pits can also be cured.
It could be required to apply an extreme moisturizing cream after chemical skin peels to replenish the skin's hydration. Even if acne does develop in this situation, it quickly goes away on its own, necessitating no acne treatment.
Chemical Skin Peels Prices In Turkey
The Quartz Clinic frequently uses chemical skin peels. The Ministry of Health-approved facilities are not permitted to publish prices on websites. The cost of chemical peels application also varies depending on the doctor's experience and the caliber of the clinic. For this reason, our patients can call us at 0212 241 46 24 to make an appointment and request information if they want to have chemical peels to get rid of their current skin issues while also having revitalized and fresh skin.