Body Contouring and Skin Tightening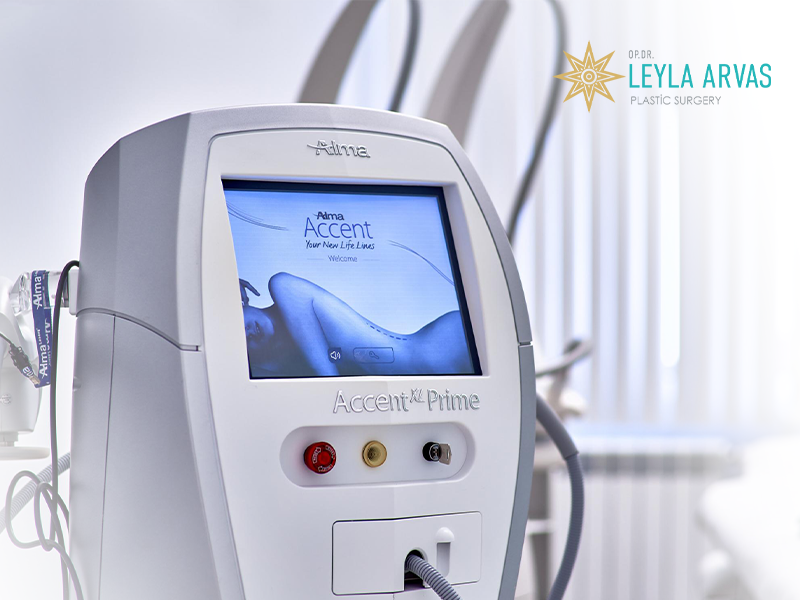 Alma Accent Prime is a cosmetic treatment device that uses radiofrequency technology to address various skin concerns, such as cellulite reduction, skin tightening, and wrinkle reduction. The device is non-invasive and works by heating the skin's underlying layers to stimulate collagen production, which can improve the appearance of the skin over time.
Alma Accent Prime is commonly used in medical spas and aesthetic clinics, and it is typically administered by trained professionals who have experience with the device. If you are interested in this treatment, I would recommend consulting with a licensed healthcare provider who can assess your skin concerns and determine if Alma Accent Prime is a suitable option for you.
What's Accent Prime?
Our skin loses its tension with time. Our bodies can change as a result of age, pregnancy, food, and other factors. These conditions can be changed, though. You can put your troubles to rest with the aid of modern technology and the expertise of professionals. We make use of cutting-edge procedures for skin tightening and localized thinning to rejuvenate the physique.
The newest body-shaping and skin-tightening platform from Alma Lasers is called Accent Prime. Long-lasting effects are produced by combining radio frequency (RF) and ultrasound. Treatments that enable a natural appearance and tighten and smooth the target area are revealed. The following are some advantages of utilizing Prime slimming for skin tightening:
The fat reduction is completely non-invasive
Improvement in acne scars tightening of drooping and loose skin giving your body a better contour
Easy, quick, and comfortable treatment sessions
Results that are more obvious and persistent
No healing period or incision is necessary.
It was almost painless.
No long-lasting consequences, tissue damage, or scarring
Safe procedure with positive outcomes
Which Parts Of The Body Are Suitable For Accent Prime?
Although it differs depending on the individual, the stomach, abdomen, leg, hip, arm, and shoulder areas are usually treated with Prime slimming application. A tight abdominal appearance is created by the application of Prime thinning to the stomach and abdomen, which eliminates the greasy and sagging appearance brought on by childbirth, weight increase, stress, inactivity, and irregular eating.
The inner side of the legs, knees and hip region fat tissues are reduced as a result of Prime slimming treatment, resulting in smaller legs and better-shaped hips. It is possible to attain smooth, cellulite-free hips and legs by enhancing collagen formation.
The excess fat on the arms and shoulders, which have a softer and drooping appearance, is destroyed by ultrasonic waves and the person gets a smooth and tight appearance thanks to the Prime thinning applied to that area. Muscle formation decreases due to aging and lack of exercise, while fat formation increases.
Candidates For Accent Prime
Everyone above the age of 18, regardless of gender, is eligible for prime slimming as long as their overall health permits them to do so. The best candidates for this treatment include;
Anybody wants to change the contour of their body by regional thinning,
In search of remedies for thinning hair as well as wrinkles and lines brought on by age,
Unhappy with how cellulite appears on her buttocks and legs,
People who want a non-invasive body shaping procedure because they are afraid of surgery and the recovery period,
People who want to resume their daily activities right away after the procedure,
People who want to have more proportionate body lines and eliminate localized lubrication and sagging,
People who want to have more youthful-looking skin by boosting collagen production while shaping their bodies.
How Does Accent Prime Work?
The ability to select a specific device and application that best suits the skin issues you wish to address is one of the treatment's most significant benefits. The Accent system encourages your body to produce collagen naturally.
Your skin needs the protein collagen to be young and healthy. Your skin will appear tighter and smoother after your body's natural collagen synthesis has begun. Accent prime's localized thinning and skin tightening treatment is unique in that the effects continue even after the procedure. Actually, gradual heating keeps the tissue under your skin from becoming damaged. Giving your body new life results in firming and contouring.
Even after your session visit, the treated region will continue to heal thanks to the increase in blood flow. Even weeks later, the region and tissue will continue to thin. Physically, your body feels more alive and responds accordingly.
With factors including aging and childbirth, the appearance of cellulite, particularly in women, takes on a more vivid orange peel aspect. Cellulite typically appears on the arms, legs, and hips, but in some persons, it may also show up in the shoulder and face region. Cellulite removal and tighter skin are made possible by Accent Prime technology. The Accent Prime laser treatment also affects fat cells, giving patients a leaner and more sculpted physique.
How Long Does Prime Slimming Therapy Take?
Following the session, the subcutaneous tissue continues to produce collagen that was started during the Prime slimming application. In this way, day by day improvements in the appearance of the skin, the appearance of wrinkles, the tightness of the skin, and the contouring of the body are observed. The ideal tight and fit body shape develops after 1-2 months, however it varies from person to person, after finishing an average of 4-5 sessions with a 45–60 minute Prime slimming session once a week. This time is greatly influenced by the person's skin type, skin structure, and the rate at which he wishes to lose fat.
Benefits Of Accent Prime
With the help of multiple technologies, Prime Accent improves the shape and contours of the body by removing extra oil and loose skin. Results from the combination of RF and ultrasonic technology are better than those from either technology alone.
Fat cells are specifically destroyed by cold ultrasonic shear waves, and their metabolism is accelerated for quick lymphatic evacuation by UniPolar RF. Following fat burning, the application of RF heat radiation tightens the skin, enhances its texture, and produces new collagen. This effect is known as a volumetric contraction.
Tightens The Skin
With Prime Accent Slimming, age-related skin flaws such as wrinkles, fine lines, an uneven skin tone, and skin laxity can be greatly reduced. The treatments successfully address the symptoms that are currently present while also assisting in fortifying the skin against future aging. For skin that looks younger, unipolar RF energy is utilized to contract the skin's collagen fibers and encourage the growth of new collagen.
Cellulite has an uneven skin surface and a hollow look due to expanded fats under the skin that are forced into the connective tissue beneath the skin. In order to promote adipose tissue metabolism and decrease fat cell volume, Prime Accent uses a mix of RF energy and mechanical massage. It also stimulates lymphatic drainage and significantly improves the texture of the skin.
Is It Possible To Lose Weight With Accent Prime?
Let's start by clarifying that the Prime slimming method is not a weight loss program. Your body's cellulite and localized fat are reduced by prime slimming, giving your body lines a more curved appearance. Prime facilitates the easy melting and removal of your body's slimming fats, but you shouldn't consider Prime to be a slimming technique. Being overweight precludes the use of prime slimming. Prime slimming is appropriate for those who are finished losing weight and wish to sculpt their bodies.
Are Accent Prime Results Permanent?
Results are visible even after just one treatment. The advantages and improvements are greater with additional sessions, though. He advises a total of 3–5 treatments for the best outcomes. They are dispersed at weekly intervals over a period of around two months.
There are no incisions, but it will take some time until your effects are fully visible. After the course of treatment is complete, you can resume your normal activities. No pain, blood, or scarring. Skin and texture are only visibly thinned and revitalized! The worst that can happen is a minor redness where treatment was applied. Yet even that vanishes in a flash.
Possible Risks And Side Effects Of Prime Slimming Therapy
When the heat is given gradually during the Prime slimming session, there is no discomfort experienced. Remember that there is no incision made, thus there is no bleeding, bandage, or healing process following the surgery. Following the operation, it is typical to experience a small amount of redness, which will naturally subside in a few hours. Yet, this little adverse effect is not severe enough to make the person stop living his normal life. Following the operation, you are able to resume your regular activities right away. Prime slimming may be used in all four seasons because the procedure is so simple and comfortable.
Accent Prime Prices
Professional estheticians who are specialists in their profession carry out the primary slimming procedure. The Ministry of Health-approved facilities are not permitted to publish prices on news articles or websites. The cost of the process will also vary depending on the patient's present state of oil, the quality of their skin, and the number of wrinkles. By calling us at 0212 241 46 24, our patients who want to undergo the Prime slimming process to reduce the appearance of wrinkles while also wanting to lose weight locally may schedule an appointment and receive more information.