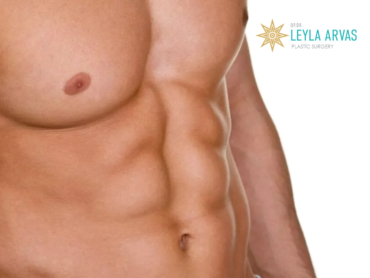 Abdominoplasty For Men (Tummy Tuck) , procedures are a treatment option for drooping skin in the abdomen and underbelly area as well as fat that is resistant to diet and exercise. Aesthetic surgery may readily reduce sagging, fissures, and lubrication brought on by cesarean sections, pregnancy, and ongoing weight increase. If the lubrication and sagging only affect the area below the belly button, a tiny tummy tuck procedure could be adequate in addition to general procedures to reverse the deformation in the abdominal and underbelly region. Given the shorter recuperation time and quicker application time, mini abdominoplasty surgery is a simpler procedure. Depending on lifestyle choices and physical attributes, each person's recuperation time varies. Today's medical advancements enable this sort of surgery, as well as many other forms of surgery, to be carried out more effectively.
What's Abdominoplasty for Men (Tummy Tuck)?
Many men discover their abdominal muscles are weaker and the skin around that area is significantly looser after significant weight reduction. This extra skin may be challenging to tone up despite diet and exercise, and it can lead to worry and self-consciousness. The muscles can be tightened and extra skin removed throughout the treatment, resulting in a tighter, flatter belly. To achieve a new, small waistline, many of our patients opt to have both a stomach tuck and liposuction on the region around their waist.
As with other surgical procedures, the kind of surgery that successfully alters the physical shape of the body after the procedure entails some dangers. These dangers, which your surgeon will go through in detail with you, are also strongly tied to your current way of life. Alcohol and tobacco use, inadequate exercise, and a lack of activity in your daily life all have an impact on the outcome of the procedure. After this operation, the bulging navel protrusion that negatively affects the posture of all types of clothing, including pants, skirts, and dresses, almost vanishes.
An incision is created slightly above the pubic region and below the navel to accomplish the procedure, which claims to flatten the abdomen compared to before the procedure. The small abdominoplasty procedure can be carried out using this incision, which is longer than the cesarean line. The position of the belly button is altered when the upper abdomen is also extended.
What's Aimed With Abdominoplasty?
An abdominal plasty seeks to create a flat stomach and a younger-looking body shape. Tummy tuck surgery can be combined with liposuction if there is fat in the waist and hip area in addition to excessive lubrication and sagging in the belly and abdomen. This procedure can also be used to eliminate aging-related loosening of the skin tissue. Stretching the skin and muscles of the abdomen also leads to some weight reduction. Following abdominal surgery, a size decrease of 1-2 is anticipated in body measures.
A flat stomach and a no longer drooping tummy make it simpler to acquire a vacation physique. With the aid of the workout you begin during the recuperation time following the surgery, the silhouette produced by the procedure may be made smoother. The physical appearance and self-confidence of the patient both improve after the belly tuck procedure. With the help of the aesthetic intervention, which also makes a substantial psychological contribution to the person, high self-confidence and a happy mood are sought for outcomes.
Abdominoplasty For Men Vs. For Women: What's The Difference?
Both male and female tummy tuck surgeries involve incisions in the lower abdomen, right above the groin, and the locations of these incisions are fairly similar. However, each time the incisions have a somewhat different form. To match the male and female aesthetics, surgeons may make a flat incision on male patients and a curved incision on female patients.
In addition, our surgeon will have to relocate the navel if a patient needs a full tummy tuck to remove extra skin from the area surrounding the navel and the lower abdomen. Given that a male and female belly button differ somewhat in size and shape, the sex of the patient may affect how the surgeon repositions and reshapes the navel.
The goals of the patient are another distinction between a male and female stomach tuck. While guys might want to show off their six-pack abs, women often prefer a more toned stomach. Our surgeon can perform a tummy tuck surgery together with high-definition liposuction to help patients with persistent fat pockets that have concealed their abs.
Who's A Good Fit For Abdominoplasty for Men?
Any adult patient who has issues with the tone of their abdomen may be a candidate for a stomach tuck. The majority of patients have loose skin around their belly and intractable pockets of fat, both of which cannot be improved with diet and exercise. Additionally, you must not smoke, be in generally excellent health, and have reasonable expectations of your performance in order to be qualified. Your best option for getting the results you want and whether or not you are a good candidate for the treatment can be determined by a plastic surgeon.
Your belly will be inspected and evaluated by your plastic surgeon during your appointment to establish the quantity of fat cells and the severity of skin loosening. Prepare to talk about your medical history, previous operations, current lifestyle choices, and any surgical-related worries you may have. Not every man or woman is seen as a good candidate for a belly tuck. When you speak with your plastic surgeon, keep an open mind since there are instances where liposuction or another operation may be more suitable.
Process Of Getting Abdominoplasty For Men
Male patients undergoing belly tucks should think about the healing period and postpone any significant plans, physical activity, or other obligations until they are fully recovered. Inform your loved ones and close friends about your operation and how they can support you to prepare yourself. You should make plans for your time off from work because you will probably need to take at least two weeks off. Set up a pleasant recuperation place for your post-operative relaxation and complete any tasks, errands, or projects in advance. Use the pre-operative checklist provided by your plastic surgeon as a clear guidance while making your preparations.
It might be beneficial to have a better idea of the stomach tuck surgery and what to anticipate when you think about having it done to tone and shape your own abdomen. Under general anesthesia, tummy tuck surgery may be tailored to the specific needs of each patient and usually takes two to five hours to complete. Two incisions are often made across the hipbones, close to the pubic bone, and then around the navel to start the process.
The abdominal muscles will then be separated from the skin by your surgeon and tightened with stitches to give you a tighter abdomen. At this point, liposuction can be utilized to get rid of any extra fat deposits and enhance the shape of the abdomen. Following this, the skin will be pulled downward, any extra skin will be removed, and the navel will be reattached to its original position. The wounds are then stitched up and covered with sterile surgical cloths to promote healing.
How Long Does Abdominoplasty Take?
Comprehensive tummy tuck procedures are typically estimated to take 2-4 hours to complete. In small abdominoplasty procedures, this procedure lasts between one and two hours. In a standard tummy tuck, the incision above the pubic area is opened in the middle of both hip bones. In order to separate the umbilicus from other tissues, a second incision is done. While the belly button's placement may vary during regular abdominoplasty procedures, the navel's position doesn't in micro abdominoplasty procedures.
In order to characterize the underlying muscles, a wide surface is raised from its fixed position and the skin tissue is stretched from all sides in the direction of the ribs. The newly developed abdominal muscles that arise are pulled together in the center and sutured shut. The upper surface skin is adequately pulled down and stretched after these treatments. The belly button is moved, sewn, and fastened in its new location.
During the intervention, a drain is applied to the surgical site to eliminate any excess blood and edema that may develop there. These tubes enable the discharge of the blood and liquid from the wound. General anesthesia is frequently used during tummy tuck procedures. However, micro abdominoplasty procedures also use local anaesthetic. The patient may become sensitive even though there is no pain, thus it is not desirable to be conscious of the stretching and tugging processes under local anesthetic.
Why Should You Get Abdominoplasty?
Small pockets of extra fat are common among people who battle with loose abdominal skin. Liposuction and abdominoplasty are frequently combined to help get rid of those hard-to-remove fat deposits and improve outcomes.
The six pack, which is many men's ultimate body-contouring objective, can be achieved by ab etching with a belly tuck. Abdominal etching, a technique used in this operation, employs skin tightening, fat removal, and severe definition between the ab muscles to change the abdomen.
Men who have abdominal surgery frequently gain stronger core strength and lose weight that puts tension on their back muscles. A stomach tuck can significantly improve posture, potentially alleviating the symptoms of back discomfort.
Brand New Look After Tummy Tuck
After surgery, you have a beautiful silhouette in terms of aesthetics. Your transition into a happier and more optimistic person is one of the most effective outcomes of abdominoplasty procedures, owing to the self-confidence that your new and faultless look gives you. You may maintain your new image for many years by leading a balanced lifestyle and maintaining a healthy diet. Maintaining this position is crucial for the longevity of the outcome since stomach tuck surgery is a good type of procedure for women who do not anticipate starting a new pregnancy process in the near future and men who have partially attained their target weight.
The first priority step in doing stomach tuck (abdominoplasty) surgery is to do so under the supervision of specialized doctors in a hospital setting, as is the case with any medical procedures. It is advised to regulate weight and avoid frequent weight gain because stomach tuck procedures are not a sort of weight loss treatment. Depending on the person's body type and recuperation time after surgery, it takes 3–4 weeks to return to work and social activities. Avoiding heavy lifting and engaging in strenuous physical activity right after the healing process also has significant advantages for a good recovery time.
Abdominoplasty for Men (Tummy Tuck) Aftercare
The length of the post-operative recovery time varies depending on the patient's metabolism and level of health. A few hours to many days may pass throughout the hospital stay. In the initial days, it's common to feel discomfort and be sensitive to pain. Your doctor will prescribe you antibiotics and medications to assist you get through this problem. Following your doctor's instructions when it comes to things like showering and changing bandages may hasten the healing process. The stitches on the skin's surface are taken out after about a week, and because the other stitches are cosmetic, they will naturally dissolve.
After roughly a year, scars gradually fade and become less noticeable. It is not anticipated to totally vanish, though. However, because it is hidden by the V-line, it is not visible from the outside. After the first week, a straight posture is not needed, but it is crucial to begin walking. Starting physical activities and workouts as soon as you can can help you get back into your former form more quickly. It's crucial to avoid choosing strenuous activities that can hasten healing following surgery, even for those who have previously exercised.
Abdominoplasty for Men(Tummy Tuck) Prices
The cost of a male abdominoplasty varies based on the patient's body type, any additional procedures, and the quantity of fat. The Ministry of Health has approved our website, however, it is illegal to give certain prices for liposuction there. For this reason, you may contact us at 0212 241 46 24 to learn more about the costs of abdominoplasty for males.